Business Intelligence
The promise behind Adante Business Intelligence is basic insight into lines, products, broker/agent sales support, claims, markets, underwriting, and better control over revenue and cost. From auto to property, from farm to commercial, every area has unique intricacies that are better understood using analytics that are purpose built for insurance. How can it be cost-effective enough so smaller insurers may also gain the benefit? Adante Business Intelligence can help.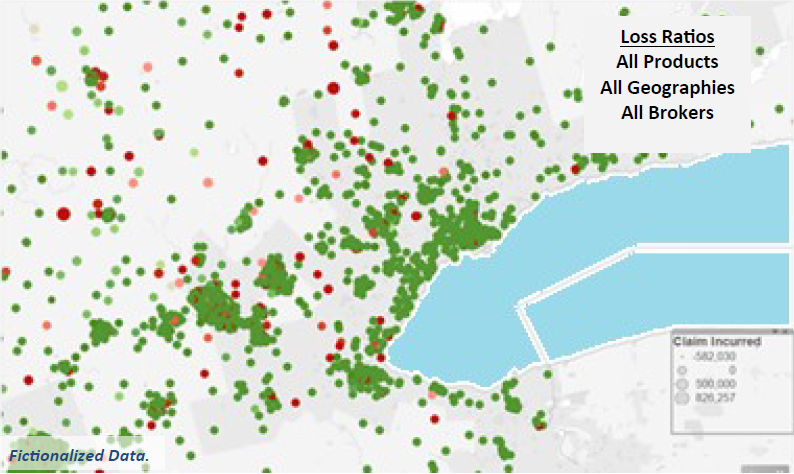 Our basic Business Intelligence is business–function focused. For example, the "Broker Dashboard" drills into sales and claims by branch/office: Where is there growth? Which products? Which Brokers? Which markets? The Dashboard enables better management of Brokers by providing regular, deeper insight.
The "Loss Ratio Workbench." gives you decision tools, by postal code or FSA, on a map or in tables by Broker or branch: Who's carrying our products in "that" area? What products do well where? Do losses correlate with? Location? Demographics? Age? Neighbourhood age? Other data? … deeper and deeper.
Mastery of your data grounded in Adante's Business Intelligence suite provides immediate business value and better understanding of your markets, and sets you up for more cost effective predictive modeling and advanced data science in future.
We deploy through five easy steps:
Step 1 - We load your data into the easy-to-use Adante Business Intelligence Solution
Step 2 - We refresh your data nightly
Step 3 - We install and deploy on your choice of hosted, or a locally installed version of our solution on your premises
Step 4 - We offer additional BI value optimization and technical support if you need it
Step 5 - We offer more advanced add-ons, for example:
Deep inspection of item codes and claim codes
Third party data that enhances value of business intelligence
Market data
Predictive modelling
Key Benefits
Easy to use
More cost effective
Rapidly deplyed
Our low cost, easy to use Business Intelligence solution enables you to access your most useful data, and better understand it through visualization in minutes. And provides better options for future use of data science.
Good Business Intelligence also sets you up for more cost effective, downstream advanced Data Science and Big Data. It's a big deal:
Insight Analytics
Predictive Analytics
Integrated Analytics
Business Intelligence - Insurance
We provide the hardware, the software and data mastery, and business intelligence expertise. We rapidly deploy a rich menu of helpful dashboards, reports,

and visualizations that provide business insights updated on a daily basis. We get you running in weeks.
We have pre-built tools and work with your data, We have the business intelligence capabilities you need. Our solution is proven to help successful insurers run their business. Our people are also available to support you with new analytics and predictive modeling that tackles the most pressing priorities in future.
Our approach is cost-effective and scale-sensitive. Our Business Intelligence doesn't overwhelm you in tools and technology. We understand the data issues. Our basic Business Intelligence is proven, and available for a modest one-time fee.
We provide you a lower risk approach to Business Intelligence, and time-to-value, without capital expense or complex IT projects.
You get the benefits. You own the results.